Did you ever wonder about the peace symbol, its meaning and its origin? Well, I did.
For some time now, I've found it somewhat strange the way the symbol usually is turned or faced – so to speak – as depicted here below.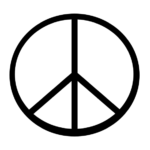 Intuitively this to me does not seem right. It looks like a hanging man. Furthermore it is the opposite direction of the common hand gesture to denote peace (two fingers pointing upwards).
Well, I went ahead and did a little research on it. And it turns out that the symbol was actually designed that way in Britain in 1958 by Gerald Holtom for the Campaign for Nuclear Disarmament, and uses naval code to denote N and D, which together form the symbol inside the circle.
So this original design appears to be well-intended. However, shortly hereafter Gerald Holtom, realized that he had it all wrong, that "the arms" should turn upwards in stead, as depicted below here. Unfortunately, this redaction didn't catch on – and thus far "the hanging man" is still the standard.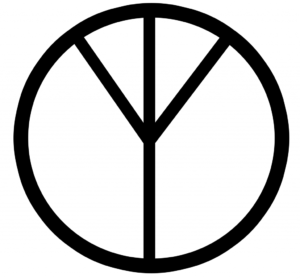 This one seems much more right to me. It looks like Man standing tall with arms up in the air or like the Tree of Life. Besides, using the naval code it denotes U and D, which could stand for Universal or Unilateral Disarmament – which arguably would make better sense as well.
Digging deeper, these symbols are unsurprisingly way older.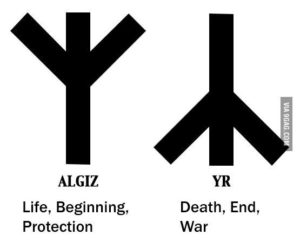 They are actually ancient runes 'ALGIZ' representing Life, Beginning and Protection – and 'YR' representing Death, End and War, which is not exactly the best fit for a peace symbol, one could argue.
The circle surrounding the runes could symbolize Space or Infinity.
This "upward facing" peace symbol – is reported to have been used as an "anti-peace" symbol by different people and groups, though logically it should be the other way around.
So in conclusion, we might wanna consider with greater care the deeper meanings and how we use and relate to these symbols – as well as other ones – going forward. They hold a magnificent deal of power and should be treated accordingly, in my humble opinion.
As always, I'm curious about your perspectives.
Peace
Y